KiDS PARTY SAN DiEGO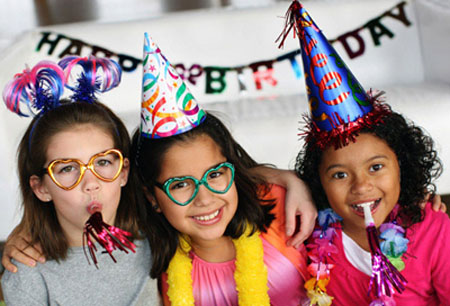 Children's Party Bus San Diego!
If you are planning your child's birthday celebration, Quinceañera,
or any special occasion,
try something new that they will ENJOY and always remember.

Our packages start from
2 hours and up
and include a FREE HOUR!*

Surprise Pickup at the home!

Decorated with birthday banners, balloons, birthday napkins and more!

Drive around to their favorite places
and receive a FREE HOUR* with minimum purchase.
Weekdays 2 hours, Friday and Sunday 3 hours and Saturday is 4 hours.


We will custom decorate the inside of the Limo Bus,
for any special occasion upon request, absolutely FREE!

KIDS PARTIES
CHOOSE FROM ANY ONE OF THESE THEMES

| | |
| --- | --- |
| * | Princess Theme |
| * | Pirate Theme |
| * | Sweet Sixteen |
| * | Quinceañera |
| * | Ol'fashion Birthday Party |
* Choose from our 20 or 31 passenger PartyBuses
or our 12 passenger Mercedes Stand-UP Limo

Click Here regarding SAFETY INFO!
New Prom Limousine Law in California
Limousines are a popular alternative for transportation to and from the prom. The state of California has recently enacted strict regulations which may effect certain vehicles operated by companies who provide limousine services for proms.
The California state legislature has approved Assembly Bill 830 (AB 830) to address safety concerns regarding school transportation by charter-party carriers including limousine companies. AB 830 requires the California limousine company to obtain a special permit from the Department of Motor Vehicles and requires additional training for drivers operating a School Pupil Activity Bus (SPAB). Limousines are classified as a SPAB vehicle if they provide transportation services to and from schools or school functions and carry large number of passengers.
Not all California limousine companies are authorized to operate a limousine classified as a SPAB. The seating capacity of the reserved limousine will determine if this additional license is required. Limousine companies caught operating without a valid SPAB will have their vehicle impounded by the California Highway Patrol. As a result, passengers will be forced to find alternative transportation.
Bottom line, when booking a prom limousine for a group of people, passengers and/or parents need to verify that the limousine company has a valid SPAB license.
All Top Dog Limo Buses and their drivers are "School Bus Certified",
which is the highest safety program necessary to operate vehicles with young children.
Top Dog Limo Bus New Model
(20 and 31 passenger) Party Buses
or our New Luxury Mercedes Luxury Stand-UP Limo

They are the most awesome limo buses in San Diego!
Cancellation Policy
Any cancellations or rescheduling will result in a one hour deposit with no grace period.
(858) 581- 3644

Thank you for visiting Top Dog Limo Bus in San Diego!
San Diego Limo Bus Home Page
Top Dog Limo Bus in San Diego, California "Not all limo buses are created equal."