CONCERTS iN SAN DiEGO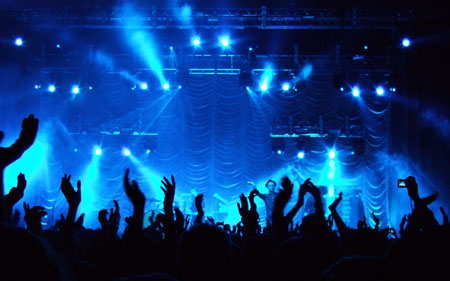 Concert Transportation is Sweet in Top Dog's Party Bus!
Top Dog Limo Bus Service San Diego Party Bus Service, provides luxury limo bus transportation for all Concerts in San Diego and surrounding areas. San Diego's Music Scene, classical, jazz, hip hop or rock and everything else that's coming to town!
San Diego Party Bus transportation for concerts in San Diego are our specialty!
Top Dog Limo Bus will make this day or evening spectacular for all your senses. Travel in style and comfort, listen to your favorite CD's or watch your favorite Concert DVD's on our 42" wide screen display with top of the line 18 speaker surround sound while you and your guests enjoy a stunning party atmosphere in luxury limo bus transportation to all your favorite venues. Unparalleled limousine amenities in the finest new luxury limo buses available make these party buses in San Diego the only way to travel in safety and style to all your concerts in San Diego, California!
Still One of the
Best Deals in Town!*
One Free Hour
given after minimum hourly purchase
(some restrictions may apply)
We will custom decorate the inside of the Limo Bus
for any special occasion upon request, absolutely FREE!
If you would like to inquire about making a reservation with
Top Dog Limo Bus Service in San Diego for an upcoming event please call us at

(858) 581-3644

Top Dog Limo Bus, Inc.
1103 Emerald Street
San Diego, CA 92109 USA
(858) 581-3644
Thank you for visiting Top Dog Limo Bus in San Diego!
San Diego Limo Bus Home Page
Top Dog Limo Bus in San Diego, California "Not all limo buses are created equal."