SAN DiEGO PARTY BUS
"Thank you very much for providing excellent service for my daughters 21st birthday 3-16-13. They had a fantastic time. The kids really liked our driver! She was awesome! Please tell her she was appreciated!
Thanks again, we will definitely use you again!" ~ Suzanne Sanger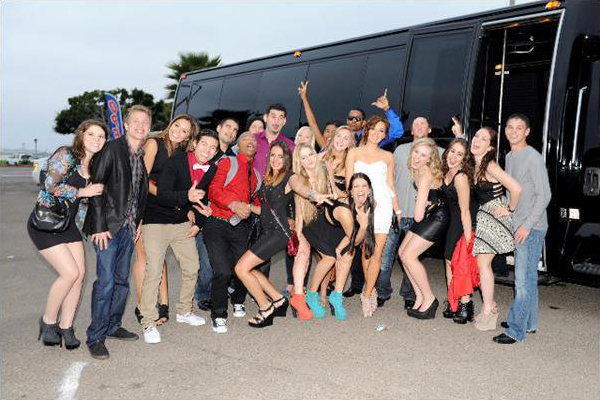 See What Our Customers Are Saying on Yelp!
Julie Lyle, Oceanside
Thanks to Top Dog Limo for making 23 teenagers VERY happy last Friday night, the happiest (and most surprised) being my son, Tommy! Rey, the driver, was SO friendly, helpful, easy going and made the entire process of keeping this bunch of kids in check while all the time, they were having a blast! The bus is amazing and all us moms were saying "OK, next time, WE are in the bus and the kids stay home!" I will definitely recommend Top Dog, and Rey, to friends and associates looking to travel in style and party like rock stars! Thanks again! ~ March 17, 2015
Amanda B.
Last night I attended what will probably be the only Charger game I get to see this football season. It would have been nice if they could have sent me off to Hawaii with a win. If any of you plan on going to the next Charger home game against the Dallas Cowgirls err I mean boys ( ;) ) consider taking Top Dog Limo. Great way to get to & from the game in comfort & style & leave the game a winner, even if our Bolts don't ~ September 10, 2013
Angelie C.
Top Dog Limo Bus was awesome from start to finish! I just rented the 20 passenger party bus and the whole experience was exactly what i was hopping for. I was able to celebrate my 22nd birthday with my close friends. Our driver Molly, was so sweet. She was very helpful when choosing places to go. We went bar hopping from Pacific Beach to Downtown and made some stops near some local beaches. She was always available when we needed her. Once we were done with one spot she was one call away. Excellent service! Russ is really cool to work with as well very helpful over the phone when i'd have questions. To top it all of Top Dog Limo Bus sent me a card with Molly saying how much fun she had driving my crew around. =) Defiantly will be calling again soon!
Erin P.
A group of your friends went on a beer tour for the day in San Diego. Booking the reservation for the Hummer limo with Russ was very easy. The price for a five hour tour couldn't be beat. Our driver was Rey, and he WAS JUST AWESOME! He was really helpful, since we were from out of town, he gave good suggestions. Rey was on time, waiting for us at each stop, didn't rush us and he was very attentive. He was very friendly and funny, it felt like he was a part of our party group, but not in any annoying way. I will definitely use Top Dog again, and I will ALWAYS request Rey!!!
Gabriel K.
We booked Top Dog for our Wedding and couldn't be happier. The limo driver was punctual, friendly and followed directions. At one point we asked him to pull over on the side of the road to drop off our photographer which he gladly did. The hummer limo was amazing and we felt overall it was a really good value. The interior of the limo is gorgeous - we were truly impressed. I definitely recommend Top Dog 100% and will be using them for any future events.
Allison J.
Guaranteed fun! We hired them for our wedding because not too many companies could fit a bridal party of our size: 26 people. The lady we worked with was very professional and was always quick to help me in and out of the vehicle. There's a cooler to store all the alcohol or if you don't drink, your juice and water. Also, the stereo system allowed our guests to have fun and unwind after the church ceremony. It was comfortable and stylish and loads of fun. Totally worth every penny!
Adee G.
I was on one of their buses for a wine tour in Temecula. This company is truly top notch. The driver was attentive and courteous. Also, she was always watching us and making sure she was available for us at a moments notice. The limo bus was truly the best I have ever been inside. So much fun!! Thanks Top Dog!! You all rock!
Lindsey C.
I organized a wine tour with 25 of my friends. We rented the limo bus for 6 hours, and our driver, Jennifer, was fabulous. She was fun, entertaining, relaxed, but very professional. Everything ran smoothly, and it was because of her. This woman was good at her job, and as crazy as that sounds, its VERY appreciated!
Question: Why is San Diego Party Bus Service Top Dog Limo Bus in San Diego your best choice for limo bus transportation in San Diego?
Answer:
Top Dog Limo Bus in San Diego has been serving San Diego for over 30 years!
Our new luxury limo buses in are still the best deal in town - new cars - great prices - check us out!

Top Dog Limo Bus, Inc.
1103 Emerald Street
San Diego, CA 92109 USA
858-581-3644
Thank you for visiting Top Dog Limo Bus in San Diego!
San Diego Limo Bus Home Page
Top Dog Limo Bus in San Diego, California "Not all limo buses are created equal."