iN THE NEWS...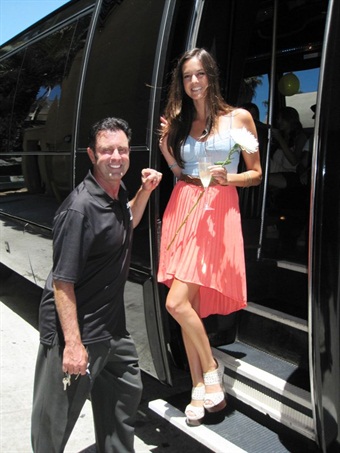 San Diego Operator Shares Limo Stories
Posted on August 22, 2012
SAN DIEGO, Calif. — Russ Van Huizum, owner of Top Dog Limo Bus in Pacific Beach, shared some of his industry tales with SDnews.com.
Among them include a wedding sabotaged by the groom's ex-girlfriend; a wedding canceled last-minute by a groom who got wet feet; another cancelled wedding by a would-be groom who found the would-be bride and a male stripper getting it on in the back of a limo; and a lawsuit from an abusive client who was beat up by a chauffeur.
Van Huizum points out that for every bump in the road, his limo business has enjoyed more positive and happy experiences.
Click here to read the entertaining article in its entirety
Source: SDnews.com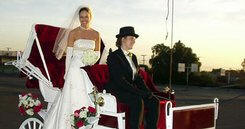 San Diego Weekly Reader
Stories - Best Buys
Wedding Transportation - By Eve Kelly | Published Wednesday, Feb. 25, 2009
"Finally, I looked into a limo bus. Russ Van Huizum at Top Dog Limo Bus (858-581-3644) said he was one of the first to bring a bus to a bridal bazaar. "At first, it didn't get the reception I was hoping for. But now it's one of the hotter tickets for wedding transportation because people can fit their whole families. It's convenient for keeping people together in a group — especially if you have a separate location for photos. We have leather seating for 28 to 30 people, a granite-top bar, adjustable lighting, and stereo. And we can take out the dance pole, which is nice when you've got Grandma on the bus." Average cost is $140 to $160 an hour."


November 3, 2003 p 62, 64
Section: Diversions; Travel U.S. News & World Report
Honorable Mention: San Diego's Top Dog Limo Bus
Title: The deals on the bus
Author(s): Vicky Hallett
Article Excerpts: ....Buses tend to inspire memories of miserable trips squished up against a broken armrest, not white-collar convenience. But LimoLiner and other upscale transporters are reinventing the wheels that go round and round. Custom buses can come with lounge seating, plasma TVs, marble floors, full bars, and more. In many foreign countries, where motor coaches are not inexorably linked to seedy terminals and sketchy characters, luxury bus is not an oxymoron. America is catching up now, in part because of a post-9/11 fear of flying. "We're changing the perception of travel by motor coach," says Peter Pantuso, president of the American Bus Association....
...Folks more into communing than commuting can rent souped-up buses. Corporate groups, brides worrying about smushing their dresses, and tourists have hired out San Diego's Top Dog Limo Bus for $135 an hour. It's got an 18-speaker surround-sound system, a 42-inch projection TV, three granite-top bars, laser lights, and room to dance. In cities outside the Northeast, where distances between cities are often longer and people are more wedded to their cars, this may be the only way to experience opulent bus travel....

Top Dog Limo Bus in Metro Magazine
February-March 2006 Issue
Russ Van Huizum, president of Top Dog Limo Bus in San Diego, used to own a limousine company with a fleet of 18 cars. But now, in semi-retirement, he has traded the 18 cars for two party buses and is enjoying himself more. Just like his passengers.
"Party buses are definitely more fun than limousines," Van Huizum says. "People can stand up and move around. And you can fit more people inside."
Van Huizum, like many transportation operators around the country, believes party buses are growing in popularity for events such as bachelor/bachelorette parties, proms, weddings, birthdays and wine tasting tours.
Van Huizum says his transition to party buses was rocky. "It was definitely a hard sell at first," he says. "But now that people are aware of their existence, it's a lot easier to sell now. In fact, a lot of wedding consultants are recommending them now."
To view the complete article online:
These Buses Put a Fresh Spin on Parties - Feb-Mar 2006
(858) 581-3644
Thank you for visiting Top Dog Limo Bus in San Diego!
San Diego Limo Bus Home Page
Top Dog Limo Bus in San Diego, California "Not all limo buses are created equal."